Tour para nadar en bioluminiscencia
Vive la magia de nadar en la noche en las aguas resplandecientes y bioluminiscentes de una laguna encantada. Conoce el fenómeno del plancton bioluminiscente, su ecosistema y su importancia para el ambiente.
La bioluminiscencia es un fenómeno que ocurre en algunos lugares especiales del mundo. Y las lagunas cercanas a Puerto Escondido son uno de esos pocos lugares fantásticos. La combinación correcta de agua de mar, el río y la laguna fomentan la reproducción del plancton que es responsable de la creación de la bioluminiscencia. Esta alta reproducción de plancton dinoflagelado combinado con la limitada contaminación lumínica hace que las lagunas cercanas a Puerto Escondido sean el lugar perfecto para que seas testigo de este fenómeno que te dejará sin palabras.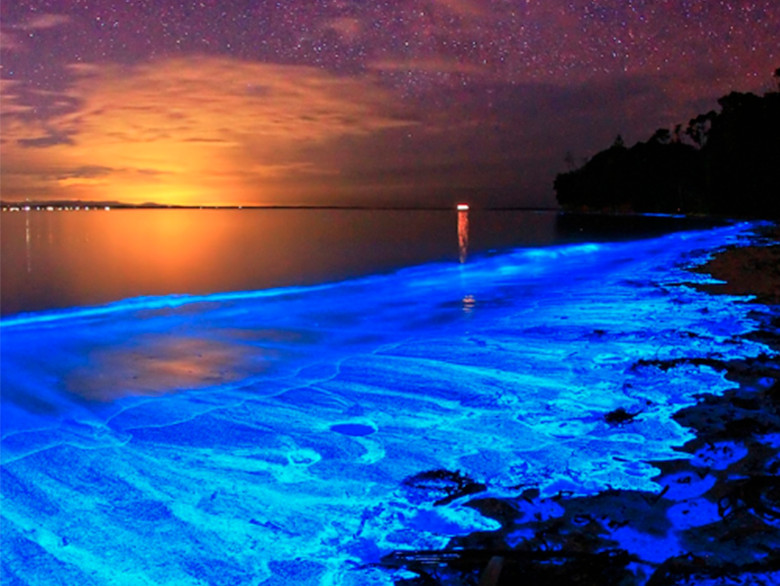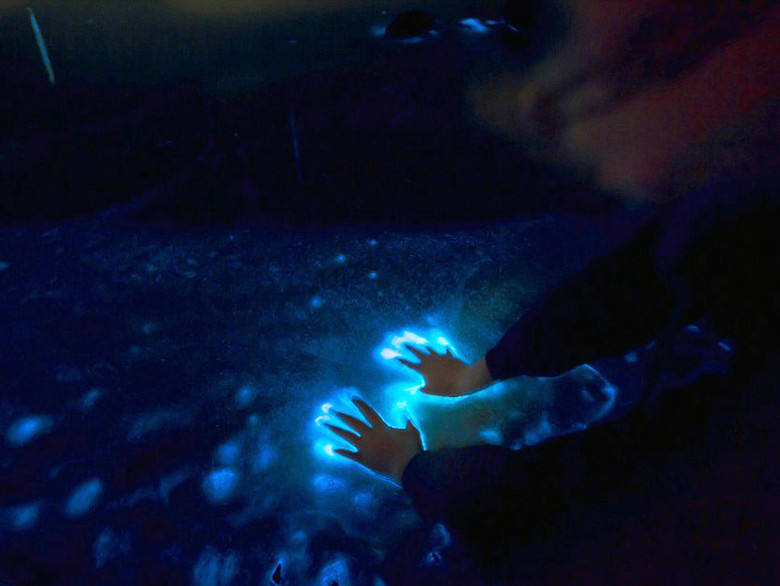 En este tour, uno de los más populares, viajamos a la laguna, a 20 minutos en coche de Puerto Escondido. Salimos por la tarde para llegar a la laguna en la oscuridad. Una vez en la laguna, su experto guía, Antonio, quien tiene un título en Ciencias Marítimas, le brindará una variedad de información sobre el ecosistema de la laguna y el plancton que crea este fenómeno.
Poco después, subimos a un bote que nos lleva a la laguna donde nos bañamos en las cálidas aguas y contemplamos la magia del plancton bioluminiscente. Pasamos alrededor de una hora en la laguna disfrutando de las tranquilas aguas y el impresionante cielo nocturno. Al regresar a la costa, el tour concluye y nos dirigimos de regreso a Puerto Escondido.
Este tour es perfecto para familias y grupos que buscan una noche para recordar. Este tour se puede combinar con nuestros tours a la laguna en bote, kayak o remo para observar aves y la impresionante puesta de sol antes de presenciar este fenómeno en la noche. Póngase en contacto para preguntar.

Horario
Salida 1 hora antes de la puesta de sol, regreso 2 horas después de la puesta de sol.


Incluye
Transporte redondo si estás dentro del área de Puerto Escondido.
Cotiza el transporte para otras zonas.

Mínimo
Para que el tour se lleve a cabo es necesario contar con un mínimo de 4 personas.
Vidasurf Ecotours en Tripadvisor
Opiniones de nuestros clientes satisfechos

Amazing it was incredibly romantic. horse, sunrise and beach with waves. the horses were very docile and obedient. incredible emotions!🧡 very grateful to Antonio, who picked us up from our home. took a lot of great photos, showed the best place for breakfast.

Super Surf cool, patient and very focused surf trainer! three hours with Antonio & Chico were brilliant! hope to try again one day :)

The best tour!!! My friends and I did a bioluminescent tour with Toño and Emilio, and it was definitely one of our best experiences in Puerto. The tour surpassed all of our expectations. It included transportation, a boat ride with bird watching along the lagoon, time on a gorgeous beach at sunset, the best seafood dinner we've ever had, a bonfire, and a night swim in the bioluminescent water. The tour was so comprehensive and we honestly couldn't have asked for a better time! Toño was both super knowledgeable about everything and also entertaining. I'd highly recommend any tour of the tours with him. The next time we return, we'll definitely book with Vidasurf!

The best bioluminescence tour My friends and I did the bioluminescence tour with Vidasurf and honestly for me that was the best experience ever. Not only did we see bioluminescence while swimming under a tent in the lagoon at night but I also had the opportunity to go on a surfboard that was attached to the back of the boat and be towed while trying to keep my balance 😂. It was a fantastic and unforgettable experience! Then we headed to the beach to watch the sunset and sat around a bonfire while roasting marshmallows before heading back to the lagoon to see the bioluminescence at night. I would definitely 100% recommend this tour to everyone! It was so magical and almost unreal.

Wilmer Jose Perez Diaz
2021-07-31
Gran experiencia tomando olas en el amanecer de Puerto Escondido!! Increible la experiencia de aprender a surf y tener un par de dias de calma y paz. Las personas de vidaSurf Ecotours se portaron increible conmigo y nos mostraron los mejores lugares para desayunar. Sin duda si buscas paz y tranquilidad ve a puerto escondido y no olvides en ir a surf con toño

Surfing for beginners First ever surf lesson and by the end I was able to stand up and catch a wave (with lots of encouragement). They also took photos and videos, which is SUPER helpful when it comes to figuring out what you're doing wrong and how to improve your stance/how to shift weight. Great experience!

LOVED our surf lessons My boyfriend and I took 4 surfing lessons with Toño and his team while we were in PE. We loved our experience and could not recommend it more! Next time we're in PE, we will definitely hit them up for more lessons. -Transportation: we were picked up at our AirBnb and dropped back off at our AirBnb -Learning to surf: Toño taught us the rules and basics really well -Practice: The team pushed us really hard and really wanted us to catch waves. We had a blast. -Communication: communicating via WhatsApp was super easy! -Class sizes: class sizes ranged from 2-5, and even when there was 5 we were able to catch a lot of waves.

Gran Experiencia Excelente experiencia, Jose le dio clases a mi hijo y logro que se parara en la tabla rapidisimo, con toda la paciencia! le enseño de tal forma que ya quiere regresar y seguir apendiendo! Toño nos explico todo y se nota que no hay nada que les apasione mas que el surf y enseñarlo a los demas. En verdad lo recomendamos!!!

Friendly & Experienced Surf Instructors My friends and I took surf lessons with Toño and his team. They were awesome! We started with safety and board positioning training on land to make sure everyone was comfortable before entering the water. Once in the water, the instructors were by your side helping you navigate and ride the waves! I highly recommend Toño and his team. - Mac

Surf Lesson We had a great time surfing with Antonio and his team! We were all beginners and they were patient as we learned, but also pushed and coached us to catch the waves. I definitely feel more confident hopping on a surf board now. We met them at Playa Carrizalillo beach at 9am for a ~2.5hr lesson, started with on-land instruction and practice, then headed into the water. After the lesson, our instructors took us to a great local breakfast spot and even dropped us back at our hotel. The Vidasurf team was friendly, quick to communicate via WhatsApp, all equipment was in great condition, and boards and rash guards were included in the price.
Contáctanos
Vidasurf Ecotours: Agencia de viajes con el Registro Nacional de Turismo # 04203180021 por la Secretaría Federal de Turismo Mexicana.